B-H Analyzers
Precise fully automatic core loss measurement at high frequency
-De facto standard equipment for research & development of soft magnetic materials.-
Precise and accurate core loss measurement


Iwatsu's B-H analyzers which hiring CROSS-POWER method (IEC62044-3) enable precise and highly accurate measurement embedded minimized phase error integration on frequency spectrum with current detecting resisters and compensation on detecting circuit with full compensation on amplitude and phase characteristics. After initial product launch in year 1984, the third generation models are available now to contribute leading-edge power electronics research.



Feature
Wide band frequency range from 10Hz to 10MHz (SY-8218)
Voltage ±150V max. / Current ±5A max. DC / 5MHz bandwidth High power amplifier (SY-5001)
41pcs., max. specimen for temperature range of -30°C to 150°C automatic scanner system (SY-321A)
36mm(L),min. 35mm(W),max. single sheet test (SY-956)
DC30A, max. DC-bias superposing test (SY-960/961/962)

Various types of soft magnetic material property testTypes

Powerful automatic test
Sample parameters (Effective magnetic length, Effective cross section, number of turns of windings, etc.) and test conditions (Frequency, Maximum field strength: Hm, Maximum flux density: Bm, Maximum induced voltage: V2m, Maximum exciting current: I1m) inputs enable obtaining BH hysteresis curve and magnetic properties in value automatically.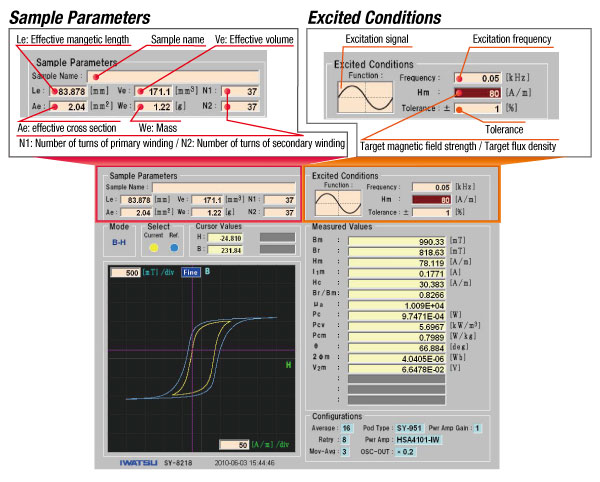 Full automatic test with options
Temperature scanner system, Single Sheet test system and DC biasing system are able to control with the SY-810 Remote control software.
Temperature scanner system
Single Sheet Test system
DC-bias test system

Core loss measurement

High-frequency transformers used in switching power supplies and DC-DC converters suffer current leakage, which increases as the handled frequency increases. The causes of the leakage include hysteresis loss and eddy-current loss. The heat generated by lost current causes the temperature of the equipment to rise, making it difficult to reduce the size of equipment. Measuring core loss of soft magnetic parts provides the best solution to minimizing loss and enabling further reductions in equipment size.

B-H curve measurement

Magnetic saturation will be one of very important parameters to evaluate magnetic materials. The magnetic saturation can be determined by measuring the B-H curve.
In case a magnetic component is saturated in the condition you want to use it, it is difficult to expect inherent performance of it.
B-H Analyzer is the only instrument that can perform high accuracy B-H curve measurement of soft magnetic materials under various conditions in a wide range, from low-frequency to high-frequency of MHz bandwidth.

Permeability measurement

Yoke materials used in motors, actuators and relays are usually made of silicon steel, soft iron, permalloy and stainless steel. However, these materials tend to cause differences in magnetic characteristics according to the processing and heat treatment.
The B-H analyzers are capable of measuring the magnetic characteristics of these parts, providing data that will facilitate improvement of these materials.
In the case of ordinary ferrite cores, the B-H analyzer can measure inductance characteristics and
µ-characteristics.