Home>Products>Semiconductor Curve Tracer>CS-8000 Series
| | |
| --- | --- |
| Semiconductor Curve Tracer CS-8000 Series | TOP |

The CS-8000 series are equipped with a high-voltage source of up to 5 kV and a high-current source of 2 kA. It features Pulse output, Gate pattern, and very small current measurement capabilities, and it supports the design evaluation of wideband-gap semiconductors such as SiC and GaN.
Up to 5kV, 2000A High-Power Test
Accurate very small current Measurement (resolution 250fA)
Large 12.1-inch Touch Screen
Variety of GATE Signal Output
Enhanced Temperature Characteristic Measurement Option
On-Wafer High-Power Testing with Wafer-Prober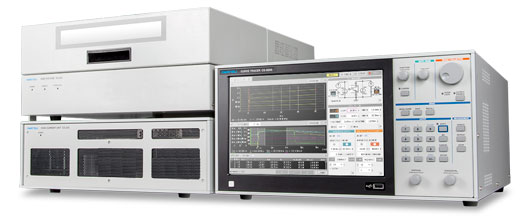 Explanation of each part




(1) X-Y Display Window
The voltage/current parameter can be set on the X-axis Y-axis, and a variety of semiconductor characteristic curves such as Vds-Id characteristics, threshold voltage, and Vds-Vgs saturation characteristics can be displayed. Also several parameters can be set on the Y axis. The scale can be selected from Log or Linear.
(2) Y-T Display Window
The measured applied waveform is displayed on the time axis like an oscilloscope. It is easy to verify if accurate measurements have been operated because the CS-8000 series can show the pulse width, the measurement point and the abnormal waveform such as an oscillation in real time. All applied waveform data and the data on the X-Y display are saved at the same time. So the measurement result can be re-validated.
(3) Measurement Data Display Window
This window shows detailed measurement information such as results and conditions, status in text format. The X-Y, Y-T, and measurement data display areas can be toggled on/off and resized depending on the masurement. Also these three areas are linked together.

(4) Configuration Setting Window
In this window, the measurement configuration for the device is set. It supports the selection of voltage/current units, wiring changes, etc. in a graphical display.
(5) Parameter Setting Window
This area is where you set measurement parameters, measurement limits, and switch between Manual/Auto measurements.
(6) USB Interface
Waveform images, data and setup conditions can be saved to the USB memory directly.

(7) Control Panel
DRAIN/COLLECTOR・GATE/BASE・vertical/horizontal axis rotary knob, buttons and rotary knobs are located on the front panel for easy manual measurements.
The central numeric keypad allows you to enter a numeric value for the parameter.

Features
■ Selectable hardware architecture
You can select any voltage and current unit required for your measurement to suit your application.

■HV unit
The HV unit is a high voltage unit of 2kV and 5kV. DC or PULSE wave can be selected. Also you can select the constant voltage or constant current drive measurement.

Main unit
CS-8200
CS-8500
Max.Peak Voltage(Max.PeakCurrent)
2kV (20mA)
5kV (8mA)
Waveform
DC, PULSE
Polarity
+ / -
Minimum current resolution
250 fA

■MV unit (Common to all main unit)
The MV unit is a 200V medium voltage unit which you can select the constant voltage or constant current drive measurement. Also you can select DC or PULSE, SINE, Rectified or Half-Rectified waveforms.

Max.Peak Voltage(Max.PeakCurrent)
200V (2A)
Waveform
DC(200mA), PULSE(2A)
SINE, Rectified, Half-Rectified
Polarity
+ / - / Bipolar
Minimum current resolution
250 fA

■GATE unit (Common to all main unit)
The GATE unit is a 40V unit. You can select the constant voltage or constant current drive measurement. Also DC, PULSE and SINE waveforms can be selected.

| | |
| --- | --- |
| Max.Peak Voltage(Max.PeakCurrent) | 40V (1A) |
| Waveform | DC, PULSE, SINE |
| Polarity | + / - / Bipolar |
| Minimum current resolution | 250 fA |

■HC unit
Because of the HC unit with the high current mode, high current measurements up to 2kA can be performed. The pulse width, measuring period and measuring range can be varied..

Main unit
CS-205
CS-210
CS-220
Max.Peak Voltage(Max.PeakCurrent)
500A
1000A
2000A
(50V)
(50V)
(50V)
Waveform
PULSE
Pulse width
10µs~1ms
10µs~1ms
(500A range or lower)
10µs~500µs
1000A/2000A
Polarity
+ / -

■ Minimum current resolution 250fA
The use of triaxial and the optimization of the measurement system has reduced leakage and noise in the equipment, so the stable measurement of very small currents canbe performed.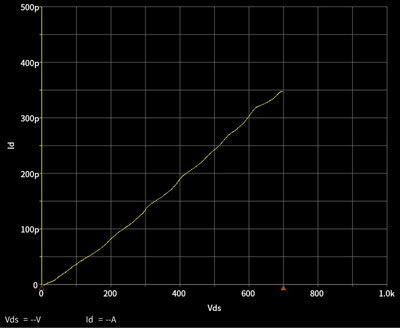 ■ Flexible GATE signal output
The gate signal can be sequenced and applied.


Hold Time Time variable range

0.000[s]~ 5.000[s]

GATE voltage variable range 

-40[V] ~ +40[V]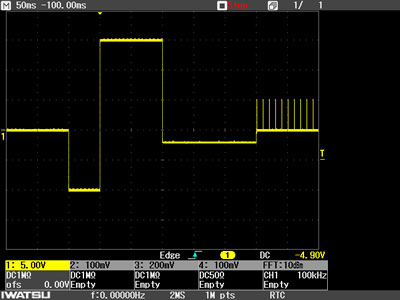 ■ Hysteresis measurement
CS-8000 is useful for measuring wideband-gap semiconductors such as SiC and GaN with hysteresis.
"Double sweep function" simultaneously displays up sweep and down sweep, allowing for hysteresis observation.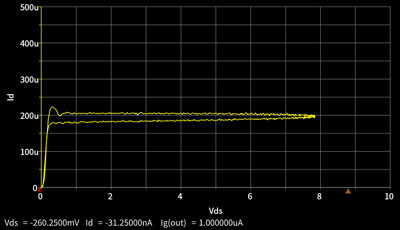 You can adjust the amplitude and time to allow any gate pattern input. Also a preliminary signal enables to be applied to the gate.
Devices with hysteresis can be measured under multiple conditions.

■ Configuration for various experiment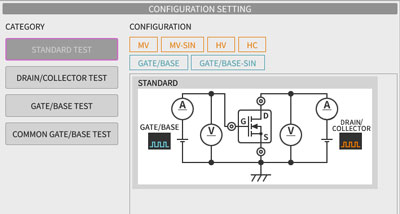 The graphical display of the measurement configuration makes easy to set various settings.

The test fixture CS-322 automatically switches the internal matrix switch to match the configuration settings, eliminating the need for a wiring swap. It is also not necessary to switch the connection between HV and HC units manually. Because the internal relay automatically switches through the configuration settings. These functions prevent incorrect wiring during measurement.

■ UI designed for ease of use
The 12.1 inch Touch Screen, front panel buttons and rotary knob provide intuitive operation. The on-screen keyboard on the screen and the numeric keypad on the front panel allow you to enter settings, limit values, and so on. To enable operation by USB mouse/keyboard.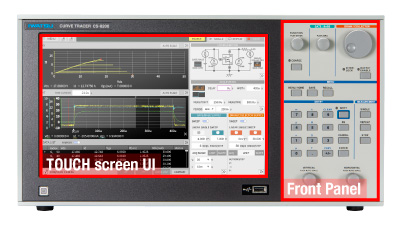 ■ Temperature characteristic measurement
Evaluation of temperature characteristics is required for targets used in high and low temperature environments during actual operation.
CS-8000 can be used in combination with hotplate and ThermoStream to measure temperature characteristics.
The use of ThermoStream requires test fixture and adapters.
Automatic measurement is also available with software.

Hotplate PA3020 / 3040 / 4030 (non isolation)
Temp. control by external sensor and RS485



MAX. Temperature:
300ºC(PA3020、PA3040)
400ºC(PA4030)


CE conformed
Accessories:Controller, Temperature sensor,
RS-485-USB converter



■Sizes of hotplate / power consumption


PA3020 :200×200(mm)800W
PA3040 :200×400(mm)1500W
PA4030 :300×200(mm)1500W



Test Fixture for ThermoStream
Enables connection with TermoStream for wide range of temperature measurements.

【Size(mm):Approx.300Wx300Dx200H】

【Power supply : AC adaptor】
Test adaptor for ThermoStream
Adaptors attaching with Test Fixture for ThermoStream.

【Withstanding temperature : -50ºC to 200ºC】

| | | |
| --- | --- | --- |
| Model | Device package | Remarks |
| CS-521 | TO | CS-501A compatible |
| CS-522* | TO-263-3(DPAK) | CS-503 compatible |
| CS-523* | TO-252-3 | CS-504 compatible |

*Contact us a made-to-order for another packages

■ Improved on-wafer testing affinity
The output terminals are fitted with noise-resistant triaxial for easy connection to wafer-prober.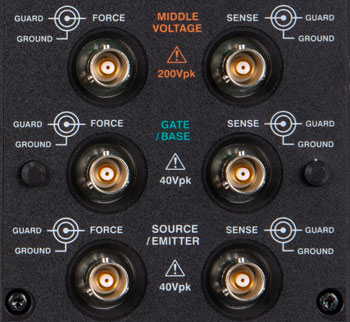 ■ Safety mechanism
― Interlock for safe measurement ―


An interlock function is linked to the cover of the fixture. During interlock operation, the output is turned off to avoid the electric shock, and the curve tracer keeps safe measurements. Even when you use the prober or temperature chambers, the curve tracer keeps safe measurement in conjunction with external interlock terminal. The LEDs in main unit and test fixture indicate the state of the interlock.




Test fixture





Main unit





- Output limit function -


Voltage, current, and power limits can be set to prevent damage to the target. In addition, the hardware overcurrent protection function shuts off current when 1.4 times the current flow of the measuring range.



■ System Configuration
HC units and fixtures can be selected to match the voltage and current of the measuring target.

Configuration Example : 2kV、2000A
Mainframe
: CS-8200
Accessory cable 
HC unit
: CS-220
Cable set for HV : CS-021
Test fixture
: CS-322HV/HC
Cable set for HC : CS-022

■ Accessoriesystem Configuration
■ CS-520 Patch panel

■ Test adaptors CS-500 series
  For use with test fixtures and CS-520 patch panels.

Heat resistance TO socket


200ºC、350A(500μs)
Test Fixture for TSSOP 14


CS-508


Adaptor for SMD type



Bottom view

CS-501A
TO

CS-502

AXIAL

CS-503

TO-263-3/ D2PAK



CS-504

TO-252-3

CS-505

TO-263-7

CS-506

TO-252-5



CS-507

SC-70-3/ SOT-323-3

CS-509

SC-59A/ SOT-23-3L

CS-510

SC-62/ SOT-89

■ Cable



Model
Description
Utility
CS-025
HV cable (L=1.0m)
HV (2kV), HV (5kV) (Force, Sense)
CS-026
Triaxial cable (L=1.0m)
MV, Gate, Emitter (Force, Sense) and GNDU
CS-027
Control I/F cable (L=1.0m)
Control the related unit
CS-028
Interlock/Sense cable
(L=1.0m)
This cable is for Interlock and HC Sense, required for each connection.




CS-025


HV cable

CS-026


Triaxial cable

CS-027


Control I/F cable

CS-028


Interlock/Sense cable