Home>Products>Semiconductor Curve Tracer
Semiconductor Curve Tracer

Multipurpose Unit Measures Leakage Current and High Current.
Auto Measurement Supported!

The best solution to properly measure semiconductors such as IGBTs, MOSFETs, TRANSISTORs and DIODEs from small to large quantities.

Advanced functions for your ease of use

The configuration is displayed in the setup display area under CONFIGURATION key sets.
Appropriate configuration can be selected for each device test.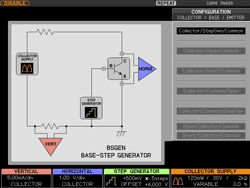 Confirm applied voltage and current with waveforms in Wave mode.
The pulse width and the measurement point can be specified even when you are confirming the applied waveform (current and voltage) to the device based on the time axis as with oscilloscopes.
By confirming the waveform, appropriate pulse width and measurement timing can be decided. Since our products give no waveform influences such as probing of oscilloscopes, etc., abnormal signals are confirmable.
This function also helps to confirm the abnomalies caused by heat such as a oscillation, etc.

Full detailed automation with PC

Semiconductor parameter measurement with CS-810 (optional)
This software application performs various kinds of auto measurements through remote control of the main unit.

USB memory
Graphic Images, Data, and Setup conditions can be saved.
Graphic Images can be saved in various formats: TIFF,BMP,PNG. Black/White selection for color of background, color/monochrome selection are available.
Waveform data can be saved in Text and in Binary at the same time.vvvv

Remote Control tool (free download) Click here to download
Where security policy restricts use of USB, the remote control tool for PC can be used.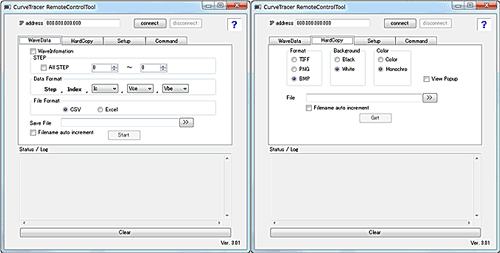 Ethernet as
standard (rear panel)

Function introduction

SWEEP
Number of points, sweeping speed, the resolution, and the direction of sweeping can be configured as needed. The custom sweep mode performs sweeping only on the specified range, high speed resolution measurement is performed at automeasurement.


Limit-SWEEP function (requires optional CS-800)
This function puts limits on current and voltage produced through usual sweep measurement for device protection and stopping the sweep at the targeted value.


Vth-hFE auto search function (requires optional CS-800)
This function automatically finds the Vth-hFE. No complicated operations are needed.


CONSTANT function with CS-800 (optional)
Bias constant voltage or constant current.
With combination of semiconductor parameter measurement software CS-810, the curve tracer supports Auto stress test.




Separate knobs for intuitive operations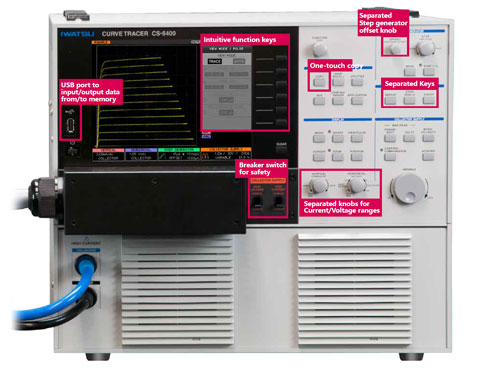 Product name
Model
Peak Voltage and Current


Semiconductor Curve Tracer
CS-3100

CS-3100
HC mode not available

Semiconductor Curve Tracer
CS-3200 / 3300
CS-3200
Max. Peak Voltage : 3,000V (HV mode)
 Max. Peak Current : 400A (HC mode)
CS-3300
Max. Peak Voltage : 3,000V (HV mode)
 Max. Peak Current : 1,000A (HC mode)

Semiconductor Curve Tracer
CS-5000 series
CS-5100
HC mode not available
CS-5200
Max. Peak Voltage : 5,000V (HV mode)
 Max. Peak Current : 400A (HC mode)
CS-5300
Max. Peak Voltage : 5,000V (HV mode)
 Max. Peak Current : 1,000A (HC mode)
CS-5400
Max. Peak Voltage : 5,000V (HV mode)
 Max. Peak Current : 1,500A (HC mode)

Semiconductor Curve Tracer
CS-10000 series
CS-10400
Max. Peak Voltage : 10,000V (HV mode)
 Max. Peak Current : 4,000A (HC mode)
CS-10800
Max. Peak Voltage : 10,000V (HV mode)
 Max. Peak Current : 8,000A (HC mode)
CS-12800
Max. Peak Voltage : 12,000V (HV mode)
 Max. Peak Current : 8,000A (HC mode)
CS-15800
Max. Peak Voltage : 15,000V (HV mode)
 Max. Peak Current : 8,000A (HC mode)