Home>Products>Semiconductor Curve Tracer>Application software : CS-810 semiconductor parameter measurement
Application software : CS-810
semiconductor parameter measurement
Traditionally, measurement was carried out for many items while manually setting it for many items, but by adopting "semiconductor parameter measurement software CS - 810", measurement could be automated easily, furthermore, the measurement content can be saved as evidence. Also, by setting the threshold in advance, automatic judgment is also possible.
Measure reliably according to the measurement procedure exactly
Save measurement content as evidence
Automatic judgment is also possible
Automatic control of optional products (eg temperature control by hot plate)
We compared the case of automatic measurement (semiconductor parameter measurement software CS - 810) and the conventional manual measurement using the same sample.
※ About the time of manual measurement, it is assumed that one who is quite familiar with the operation is doing the operation.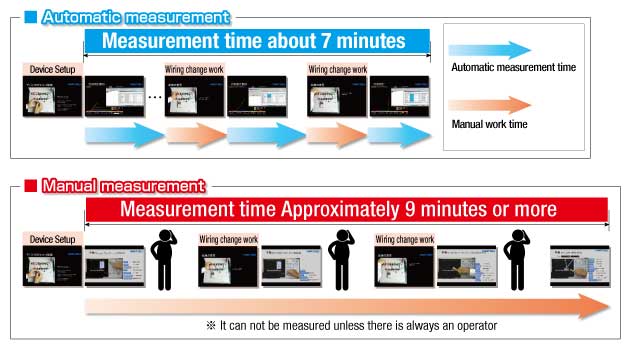 Furthermore, it can automate including "wiring change work". Scanner system CS-700
---
CS-810 is an optional software application that controls curve tracer, scanner, hotplate performing measurement and thereby automates the measurement. This makes great improvement in work efficiency.

Programming not required
By transferring the configuration measured manually on curve tracer to PC, you can set up the sequence. Programming knowledge is not required and anyone can set up it easily.


Automated test on Leakage current, Saturation voltage, VF, Vth, etc.


Output window